Tough jobs require even tougher footwear. Shoes can be an important investment decision for some types of occupation. Some people go so far as to look for work boots that can last them a lifetime, no warranty needed. But lifetime work boots are only half the product, and half the effort of caring for them.
When it comes to durability, one name that stands out is the Carolina Shoe Company. Their products come in several designs and Carolina takes pride in their outstanding work with related technology to produce quality brand work boots suitable to your occupational tasks. There is even no need to wait for low prices during a sale because when it comes to boots, Carolina is worth every penny.
See if you would like to add one of these Carolina boots to your cart!
These safety toe logger boots are of a dark brown color. Made of waterproof insulated technology, these logger work boots will give you more relief with its overtime comfort footbed. Style CA9851 price: $164.99
This composite version of style CA7021 is in a darker brown color. It's also made of the Vibram brand technology famous for their rugged outdoor footwear. If you need waterproof logger boots, this pair is the way to go. Style CA7521 price: $194.99
The Timber Comp Toe is a pair of waterproof composite toe logger boots. Also great for lineworkers, they are very comfortable and tested for electrical hazards. Style CA6921 price: $164.99
If comfort is your top priority, the Rex Steel Toe is the best choice in Carolina boots! This waterproof insulated work boot style has pillow cushion technology that will surely make hours of your work fly faster than you realize! Style CA8508 price: $171.28
The Miter Int are waterproof work boots in a combination of brown and black. These carbon fiber composite toe boots have an internal metatarsal guard that will make you feel like you are only wearing sneakers. Style CA5587 price: $161.99
Though not all Carolina work boots are proudly made in the USA, they have a lot of well-built options that are quality-made at their Martinsburg, PA facility. They run in several sizes and the Carolina Shoe Company's customer service does hold great repute in exchange services in case you opt to buy online and find that you can work better in a different size.
Here are five popular boots from their made in USA line:
The pair comes in a nice brown color and have been tested to be slip resistant as well as able to withstand 18,000 volts at 6ohz for one minute without leakage. Style CA7502 price: $169.99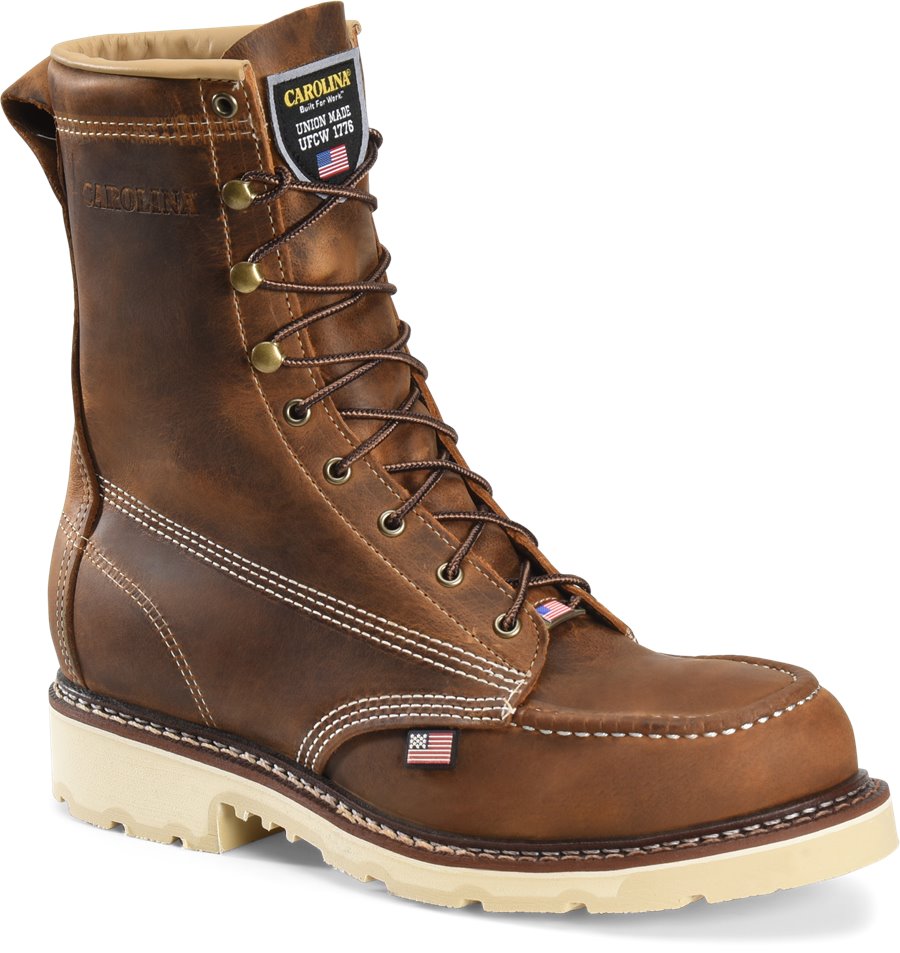 The Ferric Steel Toe work boots are a beautiful dark brown color and have a removable polyurethane footbed. If you need your boots of steel toe quality, you'll find none better than these that also have flexible shock absorbing material. Style CA7516 price: $189.99
A great pair of Carolina boots that will surely get you a lot of compliments! They are made in black stampede leather with slip resistant soles and electrical hazard technology. Style CA7012 price: $164.99
If you work on smooth surfaces, this is a good choice of work boots for you to try out. This is the steel toe version of soft toe style CA7003. Style CA7503 price $169.99
These limited edition Carolina boots are from the Tim Sway collection. Made of animal-free materials and with extra green laces in case you want to switch from the traditional brown Carolina style. These composite toe work boots also feature the Carolina waterproof lining system. Style CA7526 price: $230.00
The Carolina Boots brand is not the only one they feature at their website.
Whether you are in need of composite toe, steel toe, plain toe, or broad toe boots, there are countless options from Carolina Boots online for all kinds of heavy duty work. With enough caring for your pair, you can easily get more years than your dollars' worth out of their work boots!
Sign up for their free newsletter and be the first to know of their next sale so you can add to your work boot collection at low, low prices!